Informa Markets Announces to Rebrand the 'Food & Hotel Thailand' to Food & Hospitality Thailand 2022', Food & Hospitality Thailand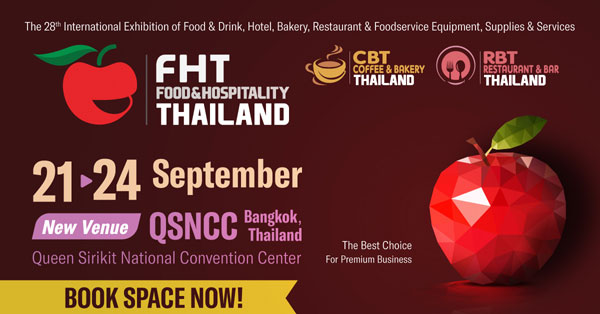 Informa Markets Announces to Rebrand the 'Food & Hotel Thailand' to Food & Hospitality Thailand 2022' to Cope with A New Business Trend by Adding Exhibition Zones, Relocating the Venue and Expanding its Coverage Criterion to the Tourism, Restaurant and Service Providing Clusters in Order to Take up the Business Recovery and Country Opening
The world's leader, Informa Markets announces to significantly rebrand the ' Food & Hotel Thailand' to the 'Food & Hospitality Thailand 2022', held between the 21st – 24th September 2022 at a new exhibition venue; Queen Sirikit National Convention Center to cope with the business's trend and transition and expand its coverage criterion to the tourism, hotel, restaurant and service providing business clusters, as well as to add 2 new exhibition zones as 'Restaurant & Bar' and 'Coffee & Bakery'. Recently, Thai Restaurant Association and BARISTA Association of Thailand had announced the collaboration to organize the event and suggest entrepreneurs to quickly make some adjustments to take up business recovery and the government's country opening to gain a larger number of tourists.
Mr. Sanchai Numboonnum, General Manager, Informa Markets - Thailand; the world's leading organizer said about the major rebranding of the arrangement of the Food and Hotel Thailand to the 'Food & Hotel Hospitality Thailand 2022'that the Food & Hotel Thailand has consecutively been organized for 27 years and achieved the success in the respect of the quantity and quality of the visitors and exhibitors worldwide until it had turned into the Asia's major trade show categorized in food, tourism and hotel clusters. However, in order to widely cover up for the clusters of service providing, spa, hospital, retailing, logistics, etc. that have significant been expanding and growing through the past years, therefore, this adjustment is considered significance along with the development of the event arrangement to respond to a larger number of new business trends, which the incurred initiatives together with this rebranding include the addition of 2 new exhibition zones as Coffee & Bakery Thailand and Restaurant & Bar Thailand, exhibition venue relocation as Queen Sirikit National Convention Center for commuting convenience and more spacious exhibition space up to 10,000 square meters.
This year the event shall add more exhibitions and international pavilions, which at this moment, there have been 2 pavilions from Japan and Italy for over 20 companies responding to join this event and it is expected more numbers from various countries definitely coming soon. Moreover, this event shall also feature training sessions, seminars by over 20 association alliances, contests, etc. and product and service exhibition from 300 world leading companies. Therefore, this shall be a good opportunity for manufacturers, suppliers, service providers and entrepreneurs categorized in the clusters of food materials, restaurant appliances and service providing business, hardware-software developers and service providers related to tourism, hotel and service business to join this event because they can directly meet and setup a table top session with true entrepreneurs, businessmen and investors.
In addition to the tendency of businesses related to tourism, hotel, restaurant and service providing this year, they tend to continually get better recovery deriving from business entrepreneurs have gotten back in business almost up to 100% as well as the government lessen measure and restriction reduction for international travel that at the moment, opens up for businessmen and tourists in larger number. It is expected the greater number of tourists definitely coming to Thailand by the third and fourth quarters, therefore, entrepreneurs should fully make preparation in all aspects, which Food & Hospitality Thailand 2022 shall be the key mechanism and the most comprehensive solution to urge the quick business adjustment to keep up with the upcoming business trends.
Ms. Taniwan Kulmongkol, President of Thai Restaurant Associationsaid about the overall of restaurant business and collaboration in the arrangement of Food & Hospitality Thailand 2022 that over 400,000 restaurants are considered to get good opportunity from the government's aid all along and they could still be able to operate business even under the COVID-19 pandemic circumstance, which it starts to get recovery at this moment because consumers are longing for their normal lives, however, entrepreneurs still need to take precautions this year in the respect of the increment of business operation capital and material cost as well as COVID-19 pandemic circumstance, which is considered as the catalyst of the transition such as the consumer's behavior that tends to order food via delivery application, initiation of the Cloud Kitchen, etc.
Moreover, there was a high competition especially in 2021, which there was a significant number of people turning into the food business approximately 100,000 people starting off in the Home Kitchen, but when they gained the success and reputation, they needed to enhance technology, tools and appliances to suit their business operation in the respect of speed and quality with lesser manpower. Therefore, only strong entrepreneurs shall survive in this business. Food and Hospitality Thailand 2022 is considered as the definite answer and significant for
restaurant entrepreneurs, which Thai Restaurant Association has taken part to organize this event throughout the past 15 years. Each year the event was considered as the absolute meeting point for entrepreneurs across the country to update trends, new knowledge, material, tools, technologies, conferences, and seminars. In addition to this year arrangement, it features a new Restaurant & Bar Thailand zone, which Thai Restaurant Association has already prepared various beneficial activities for all participants.
Mr. Meechai Amornpattanakul, President of BARISTA Association of Thailand said about the tendency of the coffee and café business that COVID-19 pandemic circumstance has given some impacts to the overall Thai coffee market and derived the state of consistency comparing to the normal state gaining the growth approximately 3 – 5% and generating the gross income approximately 60,000 million baht each year. However, the café market is expected to get back on track this year deriving from Thai people getting back to their normal living in greater number but what to keep an eye on for entrepreneurs is the persistent of COVID-19 circumstance and increment of business operation cost including coffee bean, substance, tool, and management, as well as high competition of coffee market and café.
Visiting Food & Hospitality Thailand 2022 shall be one of the good channels for business development and interested persons, which BARISTA Association of Thailand always gives full support for its arrangement. Moreover, this year the event features Coffee & Bakery Thailand for the first time, which gathers products, tools, services, and experts in the filed of coffee and coffee business who can exchange knowledge and give advice for further business operation. Last but not least, there are 2 major contests as Thailand National Latte Art Championship (TNLAC) and Thailand National Coffee in Good Spirits Championship (TNCIGS) to seek for the national representatives to join the world championship. For those who are interested to join the exhibition and get more detail on Food & Hospitality Thailand 2022, scheduled to hold between the 21st – 24th September 2022 at Queen Sirikit National Convention Center, please visit www.fhtevent.com or contact Ms. Supaporn Aungsrisuraporn, E-mail: [email protected] or Tel. 02-036-0500.
Back