Country Opening to Welcome Tourists Back to Thailand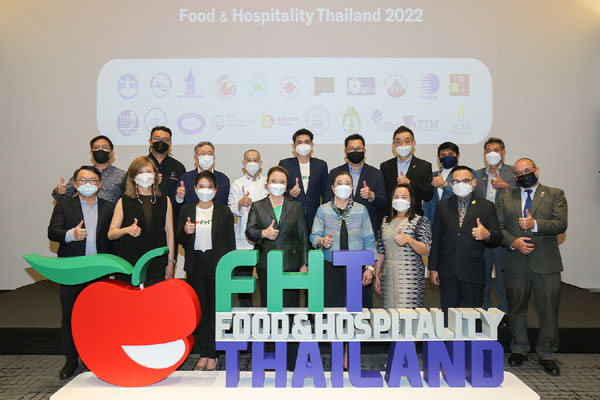 Government and Private Agencies in Tourism and Hospitality Field Join Hands with Informa Markets to Organize Food & Hospitality Thailand 2022 with the Confidence for Business Recovery in the Second Half of the Year Upon the Government's Scheme; Country Opening to Welcome Tourists Back to Thailand
Food & Hospitality Thailand 2022 is back greater than ever. This time Thai Hotels Association, Thai Restaurant Association, Barista Association of Thailand, Thailand Chefs Association, Thai Retailers Association, and over 15 Thai and International Tourism — Hospitality organizations in-associated with Informa Markets are ready to organize this greatest event to help entrepreneurs recovering business.The event organizers truly believe that Tourism, Hotel, Restaurant, and Hospitality Businesses will continually be recovered after government opens the country and suggest entrepreneurs to get themselves ready to take up a large number of tourists back to Thailand. This event shall be held between the 21st and the 24th of September 2022 at Queen Sirikit National Convention Center.
Mrs. Marisa Sukosol Nunbhakdi, President of Thai Hotels Associationsaid that tourism circumstance this year is considered as the beginning year of the great recovery as it is expected a large number of tourists coming back to Thailand in the second half of the year, which hotel business shall get better as well. According to the collaboration to organize Food and Hospitality Thailand 2022, this is the only event that THA has been taking part to organize it as long as 20 years so far. And this time is considered so significant since it comprehends the great knowledge exchange and integration of manufacturers, suppliers, hospitalities, and interesting technologies and innovations for applying and enhancing business operation efficiency, responding customers' needs in all aspects related to the New Normal lifestyles, as well as building up safety and disease pandemic prevention for customers. And not to forget business operation sustainability, this is considered so important to respond larger number of travelers nowadays, therefore, hotel business must be environmental-friendly in all aspects. In addition to THA's activities in this event, it shall comprise of the arrangement of its Annual General Meeting and interesting forums such as how to develop hotel standard with sustainability and competitive advantage, etc.
Mrs. Taniwan Kulmongkol, President of Thai Restaurant Associationsaid that restaurant business is considered to have lesser impact than other businesses in tourism sector. When government opens the country to take up larger number of tourists, consumption shall be increased all along, which Thai food is the significant destination of foreign tourists as well. According to the collaboration to organize Food & Hospitality Thailand 2022, Thai Restaurant Association has been taking part to organize it as long as 15 years, which
this event is considered as the major annually meeting point for business entrepreneurs and interested people in food business across the country to exchange knowledge, pass on experiences, update trends, look for new materials, tools, and technologies to apply in their businesses as well as the arrangement of conferences, seminars and knowledge giving forums. This year shall focus on how to develop food business in accordance to consumers' behaviors in the new world era including a new Restaurant & Bar Thailand zone, while there are so many beneficial activities provided for visitors as well.
Mr. Meechai Amornpattanakul, President of Barista Association of Thailandsaid that under the normal circumstance, coffee and café business gets growth by 3 — 5% with the GDP approximately 60,000 million baht, however, COVID pandemic circumstance has caused the market condition to remain in the steady state. After this, it is expected that the market shall continually get back to the normal state deriving from the good sign of the recovery. When tourists come back, the consumption shall increase as well, which coffee and café business can get growing even more since we can still find new producers, suppliers and café blooming all the times. Barista Association of Thailand and organizers of Food & Hospitality Thailand 2022 aim to develop the capacity of entrepreneurs, which had concretely achieved the success such as supporting Thai barista in the World Championship to win the World Latte Art in 2017. And this year, Barista Association of Thailand shall feature a Coffee & Bakery Thailand zone, where gathers all products, appliances, services, and experts in coffee and café business who are ready to exchange knowledge and give suggestion for business operation. Moreover, 2 major contests shall be conducted as Thailand National Latte Art Championship (TNLAC) and Thailand National Coffee in Good Spirits Championship (TNCIGS) to seek for Thai representatives to further join the world championship stages.
Mr. Sanchai Noomboonnum, General Manager of Informa Markets Thailand; Event's Organizer said that Food & Hospitality Thailand 2022 is further developed and extended from Food & Hotel Thailand that had continually been organized for over 28 years. This time the event is back greater than ever with the huge changes in various aspects including the extension of exhibitions from the group of foods, tourisms, and hotels to widely cover up to all related businesses, for example the group of hospitalities, spas, hospitals, retailing, logistics, etc., that is rapidly growing, to make this event even more comprehensive, adding a new exhibition zones as Coffee & Bakery Thailand and Restaurant & Bar Thailand, and relocating the event venue to Queen Sirikit National Convention Center with 10,000 sq.mt. to completely maintain all highlights in each section including the exhibitions and international pavilions, trainings & workshops, conferences and seminars from over 20 alliance associations, competitions, contests, and product and service exhibition
highlights from over 300 world's leading companies, etc. For the time being, there are many acceptances to join this event for over 20 organizations from Japan and Italy and we can ensure more organizations from several countries to come anytime soon.
Therefore, this is considered such a good opportunity for manufacturers, suppliers, service providers, food material and restaurant & hospitality appliance producers, hardware-software technology developers, and service providers in the group of tourisms, hotels and hospitalities to join as the exhibitors in this event, and on behalf of the organizer, I would like to invite entrepreneurs, business owners, and interested people to visit this event because visitors shall witness the premium food and appliance products, new technologies and innovations, competitions, conferences, seminars, workshops, as well as meet, exchange knowledge and setup the table top session with the exhibitors across the globe both Online and Onground formats.
Food & Hospitality Thailand 2022 shall be held between the 21st and the 24th of September 2022 at Queen Sirikit National Convention Center (QSNCC). For those who are interested to join as the exhibitors and get more information, please visit www.fhtevent.com, or contact Ms. Supaporn Aungsrisuraporn: E-mail [email protected] or Tel. 02-036-0500.
Back